Atlantic Ocean to the Mediterranean Sea - Bordeaux-Sete
Ride Bordeaux-Sete via the Canal de Garonne and the Canal du Midi
Offered by:
Le Velo Voyageur
Phone number:
+33 (0)1 80 91 98 18
Tour length:
14 days
Price:
From €1499
Ride the famous and popular two canals route in one go from Bordeaux to Sète. This is a well-planned itinerary that combines both the Canal de Garonne and the Canal du Midi into a single self-guided tour. The route is flat along greenways and canal towpaths, making it ideal for riders of all abilities. Ride the Garonne from Bordeaux to Toulouse, alongside the river and the canal, passing vineyards as you go. Begin in wonderful Bordeaux before following the Roger Lapebie bike path to Sauveterre-de-Guyenne and then backroads to La Réole. Follow the canal to towns and villages like Mas d'Agenais, Damazan and Agen, with its beautiful canal bridge, and to Moissac to see its beautiful abbey and cloister. From the Pink City of Toulouse, it's on to the Canal du Midi, which takes you through Castelnaudary to Carcassonne and its outstanding medieval fortress. Continue cycling along the canal to Béziers then Agde and the pond Thau. Then look ahead to a swim in the Mediterranean Sea before arriving in the vibrant city of Sète. The price includes baggage transfers, accommodation, full route notes and maps, as well as bike hire.
Avignon to Nice: Visually Stunning
Villages, vineyards and Ventoux on this holiday for road cyclists
Offered by:
Cyclomundo
Phone number:
+33 (0)4 50 87 21 09
Tour length:
7 nights / 8 days
Price:
From €1395
Ride through low-lying vineyards and across mountain passes to the Mediterranean on this self-guided tour aimed at fit riders accustomed to long distances on road bikes. Average distances are around 100km a day, with 1,500m of climbing. Follow the Rhone River as you head from Avignon into Languedoc to see the famous Pont du Gard Roman aqueduct before cycling on to the wine regions of Tavel and Chateauneuf-du-Pape, and to the foot of Ventoux. From here, it's up to hilltop villages and through lavender fields to Saint-Paul-de-Vence, near Nice and the Mediterranean coast. Top-quality full carbon road bikes available on request. Price includes 7 nights of hotel accommodation, daily breakfast, 3 dinners, luggage transfers between hotels, detailed maps and route notes, GPS device (subject to availability). Tour offered May 25- September 3 but can be tailored for private groups of 6 or more outside these dates.
Canal du Midi
Experience one of France's most famous routes
Offered by:
Inntravel
Phone number:
+44 (0)1653 617001
Tour length:
6 nights
Price:
From £965
Linked to the Canal de Garonne, the Canal du Midi made the transport of goods between Bordeaux on the Atlantic Ocean and Marseilles on the Mediterranean Sea far quicker and safer - by avoiding the possibility of attack from the pirates and slave traders of North Africa's Barbary Coast. There are no such worries today and the shady canal towpath makes for idyllic cycling through picturesque landscapes. Ebikes are also available.
Canal du Midi - From Toulouse to Sète
Follow the course of the Canal du Midi, visiting local gems along the way
Offered by:
Le Vélo Voyageur
Phone number:
+33 (0)1 80 91 98 18
Tour length:
8 days
Price:
From €979
This cycling tour takes you from Toulouse to the Mediterranean sea along the Canal du Midi. You ride on the hauling path or further to discover here and there an abbey, nice vineyards or a lake. You start your cycling holiday in Toulouse, where you already feel the way of life of the South of France, discover its gastronomy and wonder at its soft colors. You then ride through the Lauragais, a vast fertile plain dotted with nice churches and ride through Castelnaudary, the home town of cassoulet before reaching the cute port of Bram. You head then to Carcassonne and its famous medieval fortress before riding into Minervois, where you will pass many peaceful wine villages along the canal. You stop in one of them before going to your next stop in Béziers. Afterwards, the sea is only a few kilometers away. You reach first Agde and the Thau Lagoon. You ride the last stretch along the sea and arrive in the town of Sète and its port, the destination of your adventure. The price of this tour includes bike hire, accommodation, luggage transfers and all the maps and information you need to get the most out of your trip.
Canal du Midi - Toulouse to Carcassonne in 4 days
Ride one of France's most famous canals in a leisurely 4 days
Offered by:
Le Vélo Voyageur
Phone number:
+33 (0)1 80 91 98 18
Tour length:
4 days
Price:
€379
This short break links two of the Canal du Midi strongholds: the starting point of the canal – the pink city of Toulouse – and the medieval fortress of Carcassonne. The route follows the canal towpath as well as low-traffic country backroads, leading you across the Lauragais, a large fertile plain surrounded by hills where the pastel trade prospered in the 15th and 16th centuries and brought wealth to Toulouse. Ride through Castelnaudary, the capital of cassoulet, and past the abbey of Saint-Papoul before arriving in Carcassonne to explore the city in all its medieval glory. This is a self-guided ride, with bike hire, accommodation included, as well as maps, route notes and lots of local biking advice. Daily distances: 24-49km.
Canal du Midi Cycling Holiday: From Toulouse to Sète
A leisurely ride along France's most famous canal to the Med
Offered by:
France Bike Trips
Phone number:
+33 (0)4 58 14 04 35
Tour length:
7 days
Price:
From €595
The Canal du Midi is an ideal route for anyone wanting to take a leisurely ride and relax for a week of cycling with friends or family. From lock to lock and bridge to bridge, the canal will carry you from the  heart of Toulouse to Marseillan, on the Mediterranean Coast. Enjoy some time exploring the narrow labyrinthine streets of the 'pink city' of Toulouse before heading off along the canal to the Plaines du Lauragais, Castelnaudary and on to the towering fortified town of Carcassonne. You'll also pass by the seven locks of Fonséranne and the Etang de Thau (complete with oyster beds), before arriving at the Med. Price includes 6 nights' B&B accommodation, 4 evening meals, baggage transfers, detailed road book, maps and GPS tracks. Available guided or unguided. 
Carcassonne and the Canal du Midi Self-Guided
Ride through medieval towns and roll along canal towpaths
Offered by:
Inntravel
Phone number:
+44 (0)1653 617003
Tour length:
4 nights
Price:
From £720
The southern region of Languedoc-Roussillon is famed for its Mediterranean climate and vineyards among rolling hills and pretty villages, historic churches and cypress trees. Medieval Carcassonne is perhaps the jewel in its crown. Wander the streets of Carcassonne from the comfort of your 4-star hotel – a wonderful start to your holiday. On your second day, enjoy a leisurely ride alongside the Canal du Midi via a series of ornate locks and bridges, then end with an energetic circuit into the foothills of the Montagne Noire to the picturesque village of Minerve, with its ancient walls and citadel. The scenic Gorge de la Cesse is another highlight, and the sense of variety is such that you will feel as though you have been away for far longer than a mere three days. The price of this tour includes 4 nights' accommodation, 4 breakfasts, luggage transfers, route notes and maps, high-quality bicycle, and a return taxi from Carcassonne airport. Ebikes are also available.
Cycling the Canal du Midi from Carcassonne to Béziers
Follow the banks of the Canal du Midi to beyond Beziers
Offered by:
Le Vélo Voyageur
Phone number:
+33 (0)1 80 91 98 18
Tour length:
8 days
Price:
From €879
This self-guided cycling holiday takes in all the highlights of the eastern stretch of the Canal du Midi through Langeudoc. Ride from Carcassonne (don't forget to indulge in a bowl of delicious cassoulet and sample other local culinary delights along the way) across the Cathar country of the south of France. This is a region rich in historic building, Roman ruins and magnificent cathedrals (don't miss the one at Narbonne). From the old city centre of Béziers, ride through the marshlands – passing bulls and pink flamingos – to finish your journey on the white beaches of the Mediterranean Sea.
Escape to Provence and the Camargue
From Pont du Gard aqueduct to the flamingos of the marshlands
Offered by:
Abicyclette Voyages
Phone number:
+33 (0)2 55 99 92 92
Tour length:
8 days / 7 nights
Price:
€932
This self-guided bike getaway around Nimes gives you the chance to discover the richness and variety of the south of France. Pedal gently between Gard, Provence and the Camargue. Discover thousands of years of history and explore diverse landscapes from the hilly and limestone landscapes of the Alpilles to the ponds, plains and green meadows of Camargue. Enjoy the ancient art and history of Nimes and Arles and take in Les Baux de Provence, classified as one of the most beautiful villages in France, and visit other highlights like Uzès, Saintes-Maries de la Mer and Aigues Mortes. And how could we not mention the Roman aqueduct Pont du Gard? Then this easygoing getaway crosses the Camargue and the meadows and marshes formed by the Rhone delta. See flamingos, white horses and bulls, the symbols of the Camargue. Across the Gard, Provence and the Camargue, indulge in Provencal scents, fruits, vegetables, olive oil, tapenade, fougasse, wines, goat cheeses, sausages, honeys and, of course, the herbs of Provence. The price of this tour includes 7 nights' accommodation, 7 breakfasts, luggage transfers, phone assistance, a personalised greeting, travel documents and maps, GPS, and local recommendations for restaurants.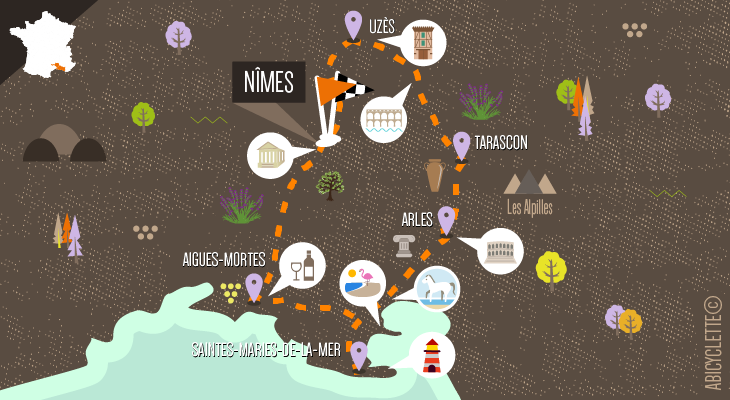 Need planning help? Use our bespoke service
Let Freewheeling France help you plan your French cycling adventures
Offered by:
Freewheeling France
Tour length:
Tailored for you
Price:
Tailored for you
If you want to cycle in France but you're not sure where to go or how to sort it – maybe you're strugglng to find accommodation or the right self-guided or guided ride for you – then this service is for you. It's my own bespoke service that matches your holiday wishlist to the right tour operator or accommodation option for you. This is for riders who need a little support on the road – anything and everything from accommodation advice and route planning to hiring bikes and luggage transfers. I'm working with a network of cycling specialists across France to offer you the best cycling holidays possible – and tailored just for you, your dates and your cycling ability. Hit the brown button below or see this link for details.
All accommodation has been checked to ensure it meets our cycle-friendly criteria. We also deal with tour operators personally before adding them to the site. To recommend a great French cycling holiday or a nice bike-friendly place to stay, please email lyn@freewheelingfrance.com